NO STUFFING MACHINE? NO PROBLEM!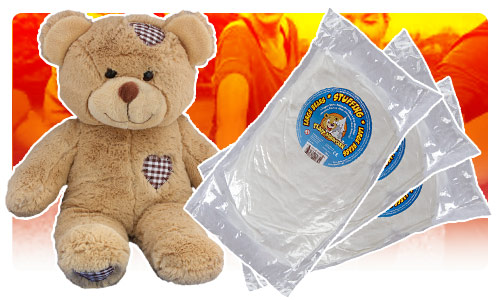 Making your own bear is a fun and tactile experience loved by young and old. Great for hand eye coordination and small motor skills too! It's a great family activity, fun for events like team building, campus activities and fundraisers. Our individual pre-mulched and vacuum sealed stuffing pouches make it that much easier! Perfect for creating kits, or simply to grab an animal, a stuffing pack and go.
They're simple, affordable and won't take up too much space!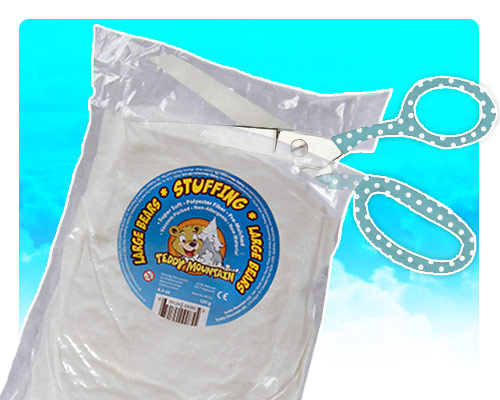 Cut open the bag and the fiber magically expands! Each pouch holds enough fluff to stuff the appropriate size animal!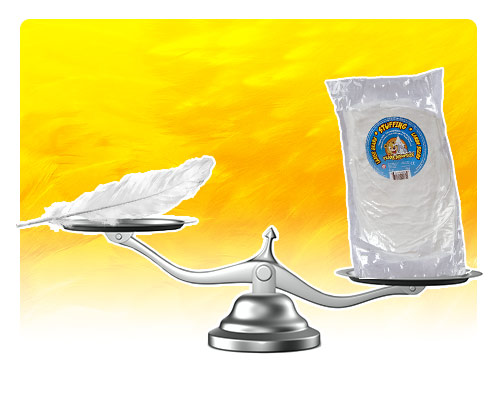 At 1.5 oz (small) and 4.4 oz (large) the fiberpacks are vacuum packed to save space and extremely lightweight and easy to store, transport and ship!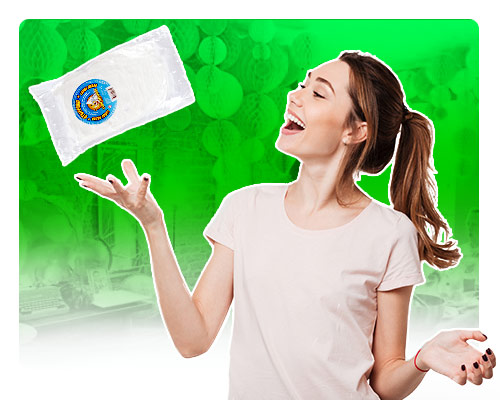 Save time & money enjoying the convenience of these ready made packs!
HOW DO YOU STUFF A BEAR THEN?
Hand stuffing is a simple and fun way to enhance the creative experience, not to mention it's fun for all ages!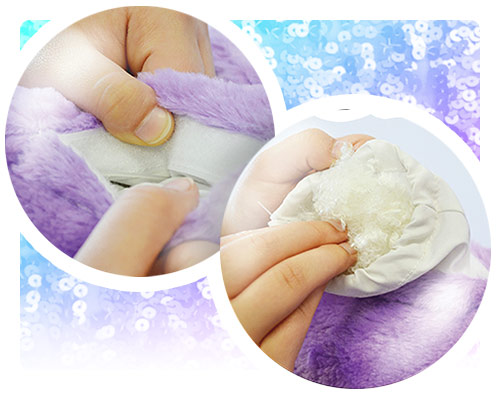 Locate the opening in the back of your animal, you'll find an inner pouch with a locking zip tie closure.
Pull your fiber stretching it like taffy and insert into the pouch opening starting with filling the extremities first. Once the arms, legs and tails are full, fill the body. Give it a squeeze to see if it's the perfect amount of cuddly!
* Stuffing tip- for small spaces like ends of tails or paws, use a long handled spoon or dowel to push the fiber into the area.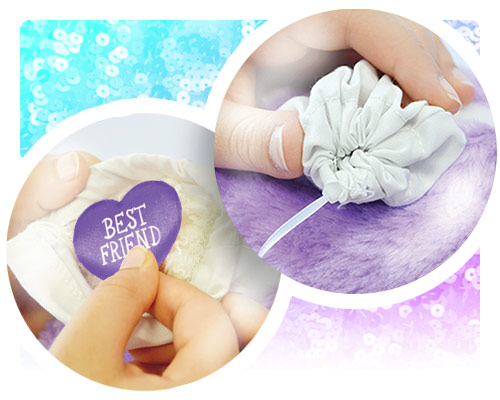 Now is the time to make a wish and add a wishing heart, star, scent or sound. Once you've added your insert it's time to zip it! Pull the locking zip tie closed and carefully clip the end of the zip tie. (a large nail clipper is safe and easy)
*ooops! Forget to add in your insert before closing? Never fear, just snip the zip tie, and thread in a new one!
Now locate the small strip of fabric that covers the "sticky" side of the Velcro and remove it. Seal up the back, give the fur a fluff and your new friend is ready to be loved!
WANT TO KNOW A SECRET TO SAVE MONEY? MULCHING!
Teddy Mountain® recommends all customers who are hand stuffing or not using a "mulching" machine to mulch your incoming fiberfill! The reasons for this are:

SAVE money!
Your Bears will be SOFTER!
We have prepared a handy-dandy manual for how to mulch your fiber!
GET STARTED WITH TEDDY MOUNTAIN!
With our Fiber packs hand stuffing a plush animal is a fun and easy experience! You don't need a huge upfront investment to be able to utilise this in your business! It's a fun experience for children and grown ups alike!